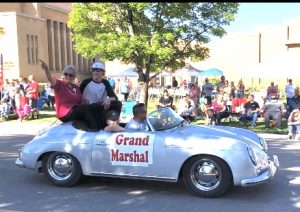 Donna Beth Wilde Cooley was born on August 23,1935, near the end of the Great Depression. She was born in Oakley, Summit County, Utah, to a happy, loving family, the youngest of four children. "We knew what poverty was but made the best of everything possible living in a small farming community," she says of her early days.
She enjoyed a fun childhood in Oakley, with lots of cousins around, playing "Run Sheepy Run" and all the old street games at night.
When she was fifteen years old, she moved with her family to Salt Lake City where her father worked making cheese in a dairy. She graduated from Granite High School in 1953 and then worked for eighteen months at General Motors Acceptance Corporation in Salt Lake City from 1953 to 1955. She worked in accounting offices for thirty-four years, twenty-five of those years at Southern Utah University as head cashier.
Donna married Charles T. Cooley on November 25, 1955. Together they had two daughters, Jolene Cooley Lee and Kristine Cooley. They were married for fifty-five years, until Charles's death in 2011.
Donna retired from Southern Utah University on July 1,1995. Soon after, she and Charles started making small toys in their garage. That fun hobby grew eventually into the Happy Factory, a non-profit, strictly volunteer organization that has now shipped over 1,600,000 toys to needy children worldwide. "I love spending several hours every day at the Happy Factory," she says. "This is one of my greatest fulfilled dreams."
We are so happy to be able to Celebrate Donna Cooley and The Happy Factory! Her dream, determination and hard work has helped to change the lives of children in Utah and around the world.  As Charles Cooley said, " We may not be able to make a toy for every child in the world that needs one-but we're going to try!"